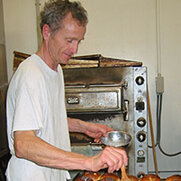 Bread with a purpose
The Breadman Naturally Fermented Bakery was created by Steffan Klink in Nelson in 1993 when he moved to New Zealand from Germany. In the intervening 28 years the demand for delicious, healthy and locally baked breads has just kept increasing - even before 'Naturally Fermented' became the fashion it is now. 
The bakery is now part of Good Honest Products, a wholesale bakery based in Wigram, Christchurch.
Despite the change in ownership the values, ingredients and methods that lead to these outstanding breads has and will not change.
Good Honest Products
People are our finest ingredient.
We are an artisan wholesale bakery, delivering to Canterbury Cafes and Restaurants 6 days a week with fresh breads and sweet treats, baked the Good Honest way. In addition to that we have an ever increasing presence in New Zealand Supermarkets and Foodservice outlets nationwide.
We are on a journey and we'd love you to come with us.
Check out our website.